Our sweet boy is 2.5 years old. He is only eight months younger than Linden which will make for some pretty interesting conversations once he's home, I think. He has Down syndrome. That is likely the reason why he is an orphan. In his country, babies with Down syndrome and other disabilties are not usually taken home by their birth parents. They are sent to an orphanage. If they are not adopted by the age of four, then they are sent to an adult mental institution. He is almost 3, so he's likely only has a year and a half before that sweet baby would be sent off to a mental institution. I just cannot bear the thought of it!
He is in Eastern Europe and that's all that we're allowed to say until after he's home. He has no heart problems that we know of. We know that he has 'low muscle tone' but that is very common with babies with Down syndrome. It simply means that he needs a little exercise to get stronger. I love that it makes babies with Ds squishier. Those moms of kiddos with Ds know exactly what I mean. They are more cuddly and squishier than typical babies. And who doesn't love a squishy, cuddly baby?!?! I know that I do!
"Darren" is only his name on Reece's Rainbow. It's sort of a code name. His real name is something else. I happen to know his real name and nickname. Joe isn't very into his real name and while the name Darren is alright, we wanted to find something else to name him. I had a dream in the beginning of September. I dreamed that a friend of mine, Sarah (www.alongtheroad-adoption.blogspot), who is also adopting a little one with Down syndrome, her sister had these signs that she was posting on Facebook that were of a little boy looking for his mom. They said "Have you seen his mom?" and "Please find his mom!" They were of a little boy and I knew in the dream that the picture was definitely of Darren. In the meantime, I was also putting signs up on Facebook looking for my son. "Please help me find Matthew!" was written on the posters. In the dream, I called him "Matthew". When I woke up, I thought about the dream for a little while. A little boy was looking for his mama all while a mama was looking for her little boy. I knew that I was looking for Darren and he was looking for me, too, even though he didn't know it. I checked my email and had a message from Sarah, "Bianca, have you seen Darren's new pictures?!!? He is amazing!!" I immediately went to Reece's Rainbow and checked out his new pictures. Oh my goodness, who wouldn't fall even more in love with this face? I thought it was so neat that I dreamed about Sarah's sister who was looking for his mama and when I woke up I had a message from Sarah. After seeing these pictures, that's how I knew that I had to talk to Joe, but if you read the previous post, you'll see that it didn't go so well.
http://reecesrainbow.org/darren4103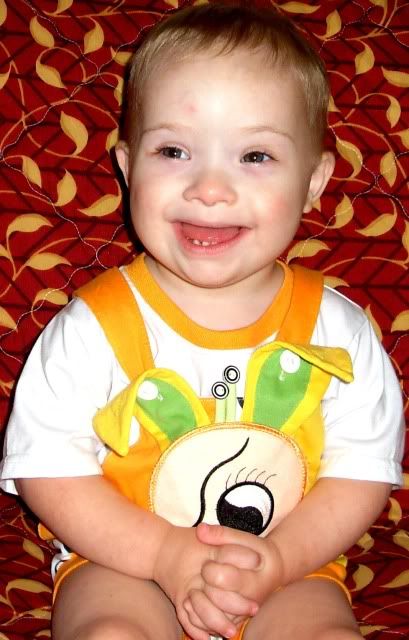 When we sat down the other night to think of names, I mentioned Matthew from my dream. Joe likes it but not as a first name. I just said "Why not Jackson?" Jackson has been my favorite boys name since I was a little girl. My mom had a Jackson Browne album that we listened to pretty often and I just thought that it was the coolest name. Joe agreed! So, his name will be Jackson _______! We are still trying to decide whether his middle name will be Matthew, Dean, Van, or something else. When I mentioned to my godmother that we were naming him Jackson, she said "Isn't that what you named all of your boy baby dolls when you were little?" Too funny!